In his opening statement, the attorney general said, "I never met with or had any conversations with Russians or foreign officials regarding interference with any campaign or election."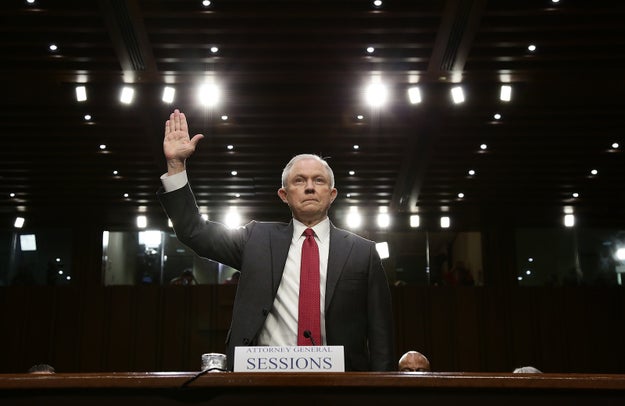 Alex Wong / Getty Images
Attorney General Jeff Sessions appeared before the Senate Intelligence Committee to testify about his contacts with Russian officials during and after the 2016 election.
Sessions denied any contacts with Russians about the election and called any suggestion of collusion "a detestable lie."
Throughout the hearing, Sessions said that he is "unable to comment" on private conversations with Trump regarding Comey firing.
Sessions repeatedly said he had "no recollection" of meeting Russian ambassador Sergey Kislyak at the Mayflower Hotel in Washington, DC, but stopped short of denying it.
Sessions appeared to get angry at several points during the hearing, at one point decrying "secret innuendo being leaked out there about me."
Sessions' testimony comes after James Comey's blockbuster appearance before the same committee last week, in which Comey accused Trump's White House of lying about the reasons for his dismissal as FBI director.
Sen. Mark Warner, the ranking Democrat, began his opening statement by pointing out that Sessions — during his confirmation hearing in January — said he did not have communications with Russians during the campaign, when in fact he had two meetings with the Russian ambassador.
Warner went on to say that the committee has a lot of work to do to follow up on the "alarming disclosures" made during fired FBI director James Comey's hearing last week, and that Sessions will be vital in clarifying the events Comey described.
"We will also want to know if you are aware of any attempts by the President to enlist leaders of the intelligence community to undermine the Russia investigation," Warner said, adding that he is concerned the president has not recognized "the severity of the [Russian] threat."
In his opening remarks, Sessions denied having conversations with any foreign officials about interference with the campaign. "Further, I have no knowledge of any such conversations by anyone connected to the Trump campaign," he said.
As he continued his opening statements, Sessions said that he did not remember talking with Russian ambassador Sergey Kislyak after a speech the former Alabama Senator made at the Mayflower Hotel in Washington, DC, in April, 2016.
"If any brief interaction occurred in passing with the Russian ambassador during that reception, I do not remember it," Sessions said.
Sessions went on to explain that he recused himself from investigations into Russian involvement in the 2016 US presidential elections because of a Department of Justice regulation, and not because of anything nefarious.
"Importantly, I recuse myself not because of any asserted wrongdoing or any that I may have been involved in any wrongdoing in the campaign," Sessions said. The regulation in question, Sessions said, "states in effect that department employees should not participate in investigations of a campaign if they served as a campaign adviser."
"At all times throughout the course of the campaign, the confirmation process, and since becoming attorney general, I have dedicated myself to the highest standards."
Suggestions that he would "undermine the integrity of our democratic process," Sessions said, are "an appalling and detestable lie."
---